---
---
125-powerful neodymium magnet cubes that stack, fold, slide and form into infinite structures! Nanodots CUBES are a whole new dimension of building and fiddling fun.

And yes, Nanodots CUBES are compatible (and ridiculously fun to mix) with Nanodots spheres.
Features:

125 high-powered Rare-Earth magnet cubes
Magnet Dimensions: 5mm x 5mm x 5mm
Packaging that transforms into a carrying case 
Instruction manual with puzzles
⚠️WARNING:
INTERNAL INJURY HAZARD. Contains small magnets. Swallowed magnets can damage internal organs and have resulted in DEATH and SERIOUS INJURIES. Keep away from ALL children. Be aware of dropped or separated magnets. NEVER put near nose or mouth.
Seek immediate medical attention if you think magnet(s) were swallowed or inhaled. (Ages 14+).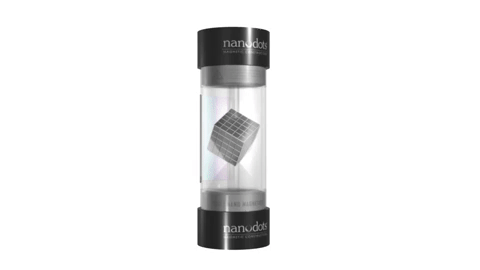 Cubes were inspired by our customers. We never imagined they would build the things they did; the creativity, complexity, and passion. Not to mention the time involved to build!
So, we're introducing an entirely new way for them to experiment with magnets and magnetism. As its own medium or paired with Nanodots Magnetic Constructors.
---