Magnet spheres precision-milled from sintered Neodymium-Iron-Boron. Measuring 5mm in diameter, Nanodots are designed to model atomic interactions at a human scale.

Tactile
Mesmerizing and mysterious, Nanodots are precision rare-earth magnets held together only by magnetic force.
Addictive
Like Lego without the instructions, Rubik's cube with infinite solutions, and modeling clay that never dries.
Strong
Contains small, powerful magnets that can be harmful or fatal if swallowed. Nanodots are not for children.  Ages 14+
UNLEASH YOUR INNER MICHELANGELO
The most versatile tool for building the creation of your dreams.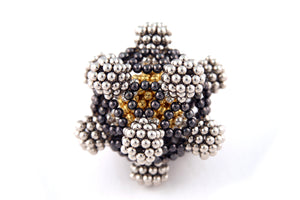 PACKAGING THAT TRANSFORMS
Nanodots packages morph into slick portable canisters. 
Included with 216, 125 and 64 constructor products.